BIO
OKI SATO NENDO
1977 Born in Toronto, Canada;
2002 M.A. in Architecture, Waseda University, Tokyo Established "nendo" Tokyo office;
2005 Established "nendo" Milan office;
2006 Lecturer for Showa Women's University, Tokyo "The 100 Most Respected Japanese" (Newsweek magazine);
2007 "The Top 100 Small Japanese Companies" (Newsweek magazine);
2008 Published "nendo" (daab);
2009 Lecturer for Kuwasawa Design School, Tokyo;
2010 Published "nendo ghost stories" (Art Design Publishing); A jury member of iF Award;
2011 Published "kaminendo" (Art Design Publishing).
From the visionary talent of one of the leading exponents of contemporary design.
The Prince's Theatre
The exceptional setting of the rooms of the Prince's Apartment in the Royal Palace of Milan host in 2015, during Expo, the exhibition "Alcantara, Technology of Dreams" which invited visitors to cross the threshold between reality and dreams, concreteness and imagination.
The Prince's Theatre Alcantara's versatility, which Nendo pushes to the extreme, interprets a new materiai perspective in a solution that evokes the fine workmanship of the master cabinet-makers of the time filtered through Japanese senses of harmony and measure.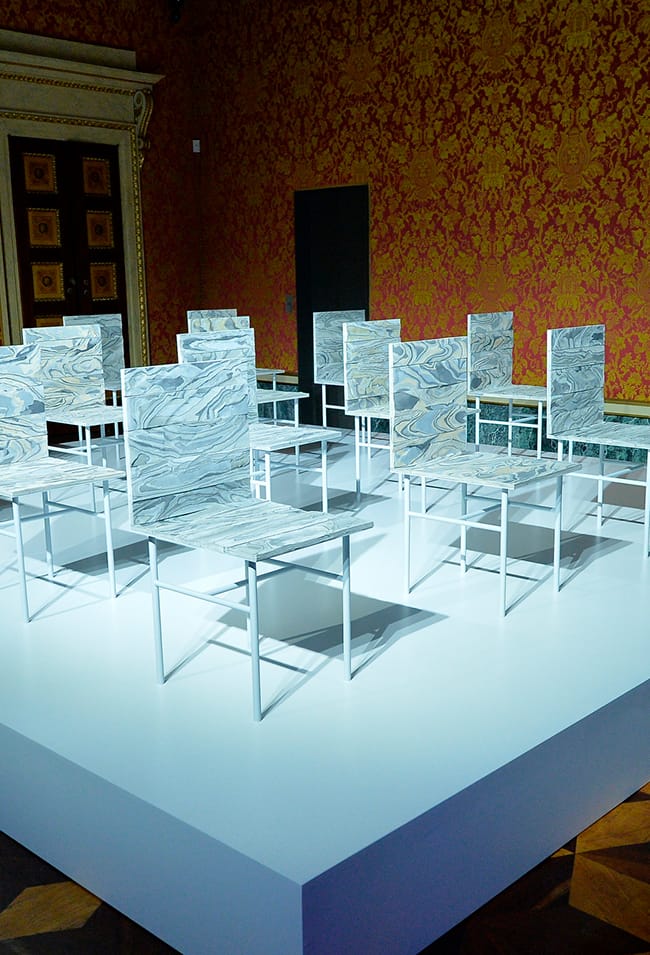 Non-slip Bird House
"We noticed that one of Alcantara's many special material qualities is its non-slip surface. Auto manufacturers use it to upholster car seats, helping to ensure driver stability. The key to Alcantara's non-slip surface is its texture. We decided to create a series of birdhouses that took advantage of this characteristic, and finished both the houses and a slanting wall with Alcantara. Thanks to its finish, the birdhouses stay on the wall through friction alone, and need neither glue nor screws, clearly demonstrating Alcantara's charm".
Oki Sato Nendo
MAXXI Museum 2011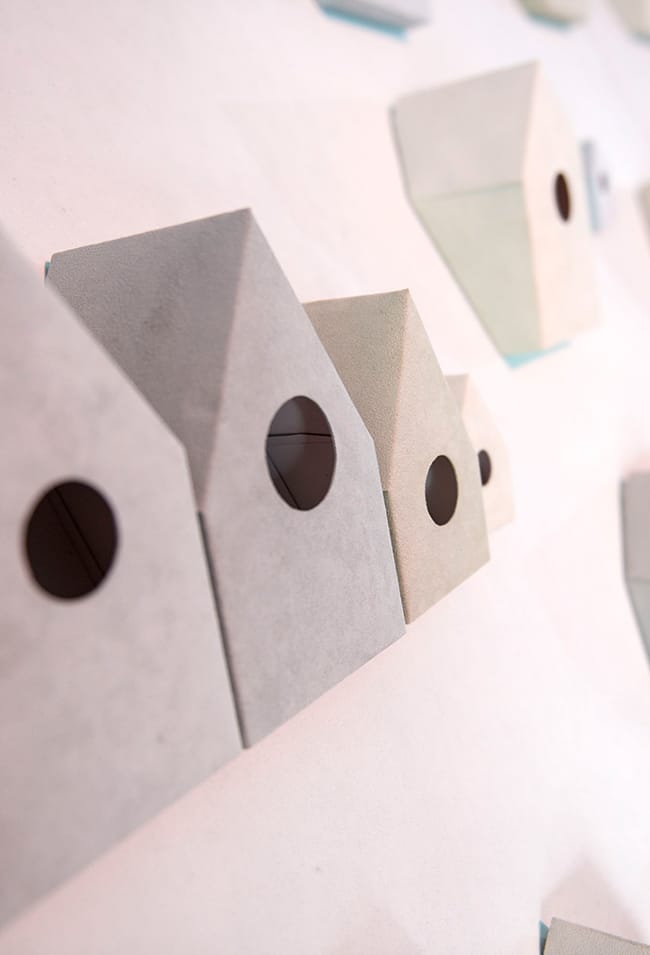 "CONIC-VINE" - ALCANTARA KALEIDOSCOPE
"Conic Vine", an installation by Nendo, the award-winning Japanese design studio headed by architect Oki Sato, was a key feature of the "Alcantara Kaleidoscope" Fuorisalone event in 2014. Superstudio hosted an original material journey of discovery into Alcantara's numerous languages.
Nendo's artistic vision begun with delicate colour schemes to imagine a wall of soft Alcantara climbing plants. Very thin layers of material form rows of romantic cones. The projects highlighted the material's innate aesthetic and sensory qualities while also spotlighting its functional properties. An installation of a screen in soft dove-grey and pastel shades which drawned in and beguiled the viewer.
Alcantara turned it into a furnishing accessory available in new compositions and colours. A new, soft material weave to add a refined touch to sophisticated contemporary interiors. The ideal solution for those who wish to divide a large space or simply characterise a corner of their home with original elegance.