BIO
PAOLA NAVONE
Born in Turin but Milanese by adoption, Paola Navone is architect, designer, art director, interior designer and curator of exhibitions and events. Straightforward, a dreamer and eclectic: her mind and soul are a combination of flavours and colours of the south of the world – known, loved and lived – together with the taste and forms of the West, rich in traditions, open and continuously in movement.
She was awarded the first ever International Design Award in Osaka in 1983, in 2000 the German magazine Architektur & Wohnen named her Designer of the Year and in 2011 she was the winner with two projects of the Elle Décor International Design Awards. She now works for the most important Italian and international design brands.
CUCCIA - ALCANTARA - MAXXI PROJECT "CAN YOU IMAGINE?"
A rocking shell.
A fluffy nest made of green tufts. Leaves?
A shelter.
A cradle.
A doghouse.
To isolate and wrap. Protect and cuddle.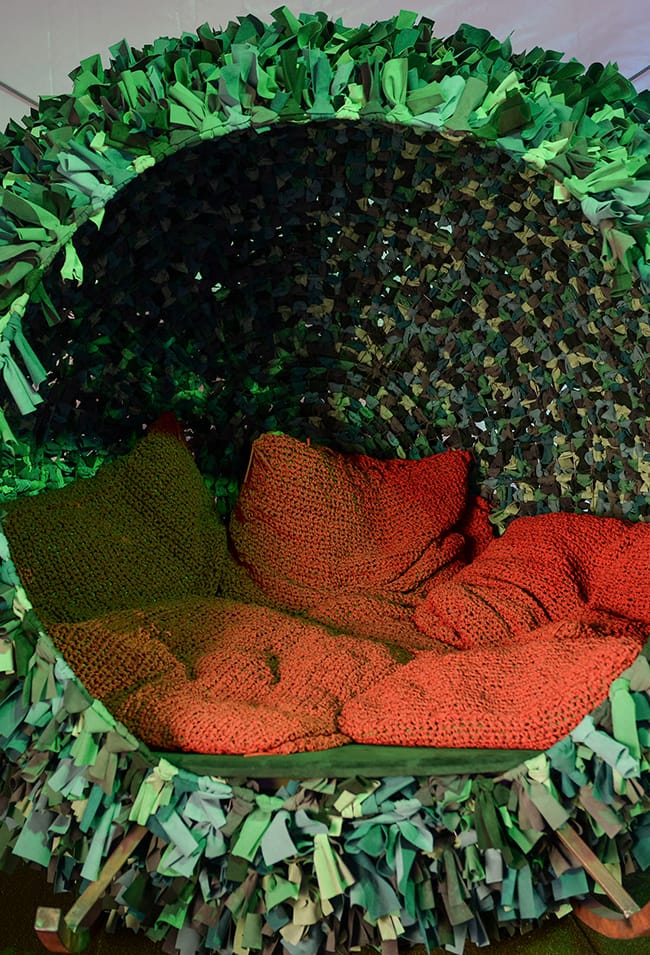 THE STRONGHOLD OF SILENCE - ALCANTARA, TECHNOLOGY OF DREAMS
The exceptional setting of the rooms of the Prince's Apartment in the Royal Palace of Milan host in 2015, during Expo, the exhibition "Alcantara, Technology of Dreams" which invited visitors to cross the threshold between reality and dreams, concreteness and imagination.
Paola Navone's "The Stronghold of Silence" is almost a mini fortress, a materiai barrier that creates a secluded meditation space to underline Alcantara's soundproofing proficiency. The materiai displays gradient shading and the project gives prominence to its perfect ability to coordinate with the vintage damask of a number of upholstered elements.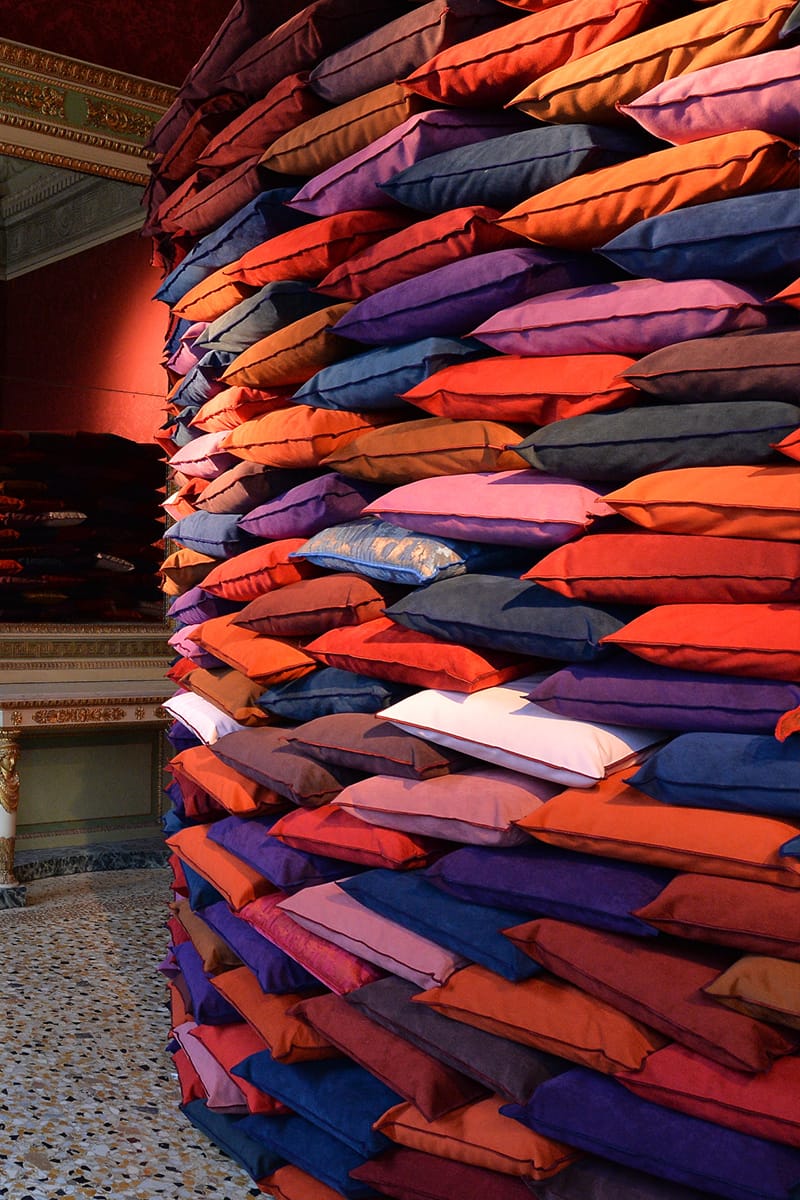 "LOCAL ICONS - GREETINGS FROM ROME"
A curious family of objects strongly and cheerfully inspired Italy. To its colors and its pop icons. Italy's tricolour interpreted in Alcantara for a tribute to the nation's capital. To tell in an unusual way a very special passion for Italy and for its beautiful traditions. A watermelon – typically white, red and green – becomes a sleeping mask and a cushion. They let us thinking about summer dreams, about travels and about sea.
A wine bottle is turned into a table lamp with the decorative touch of an open-work Alcantara lampshade. Green and paunchy, tells about parties, good food shared in friendship. Tells about an authentic and generous Mediterranean culture. A Vespa that turns into a funky and pop icon. Three colors through an original interpretation of the saddle and the white Alcantara polka-dots all over the bodywork. In this way we can play dyeing with cheerfulness a furnishing accessory or a vehicle. Our memories go suddenly to Roman holidays, from strolling on the city's narrow streets on balmy evenings to revitalizing breaks in its trattorias.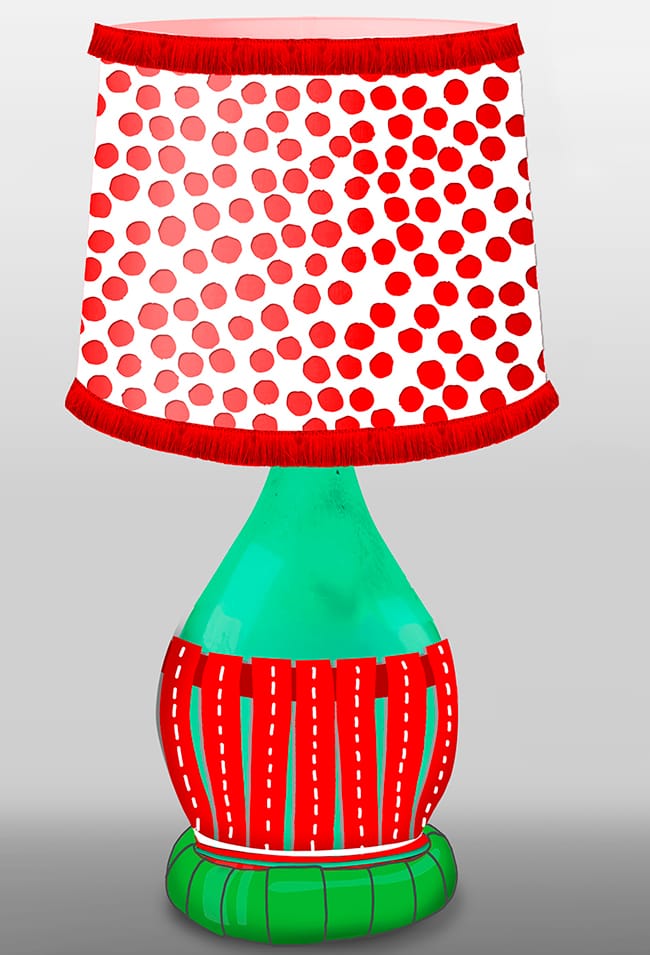 Alcantara Design Museum
Alcantara presented the "Alcantara Design Museum" at Superstudio Più in the Tortona district during Design Week 2009. A selection of internationally renowned designers has been invited to contribute their own personal interpretation of Alcantara, and its countless applications, emphasizing the features and unique characteristics of the material. This interpretation will be realized through the redecoration of an object created by one of several leading producers in the field of design.
Why Paola Navone chose Alcantara?
"I like to experiment. Materials, forms, effects. I am very curious and sensitive to the feel of touch. Working with Alcantara is a real sensorial experience. As a designer, I try to project friendly objects. I would like that who buys my objects would appropriate them: by destroying them, painting them, sewing buttons… In order to get a unique object, non-repeatable. This exercise was possible with Alcantara, which, from plain colour covering material, can be transformed into a printed surface as a wallpaper as well as into a perforated hardy piece".