BIO
PATRICIA URQUIOLA
Born in Oviedo, Asturias, she attended the Department of Architecture at Madrid Polytechnic and, later, Milan Polytechnic where she graduated in 1989 with Achille Castiglioni.
In 1991 she started working in Maddalena De Padova's product development department and soon became its head. Here she met Vico Magistretti, with whom she later worked. In 1998 she started working with Moroso, for which she designed a new concept of "sitting" involving interchangeable components for a truly modifiable living room. She opened her own design firm in 2001 in Milan, working on design, display layouts and architecture. She has designed for dozens of companies, including Agape, Alessi, B&B Italia, Driade, Flos, Foscarini, Kartell, Molteni and Rosenthal.
"LOCAL ICONS - GREETINGS FROM ROME"
"Chiusino" is a tablet case featuring a Roman manhole cover with its characteristic S.P.Q.R. inscription. It is made of Alcantara, using an unusual three-dimensional effect. Also available in a mini-tablet version, the case is decorated with a contrast trim. A witty, modern interpretation for one of the most ancient and distinctive symbols of Rome in an extremely contemporary object.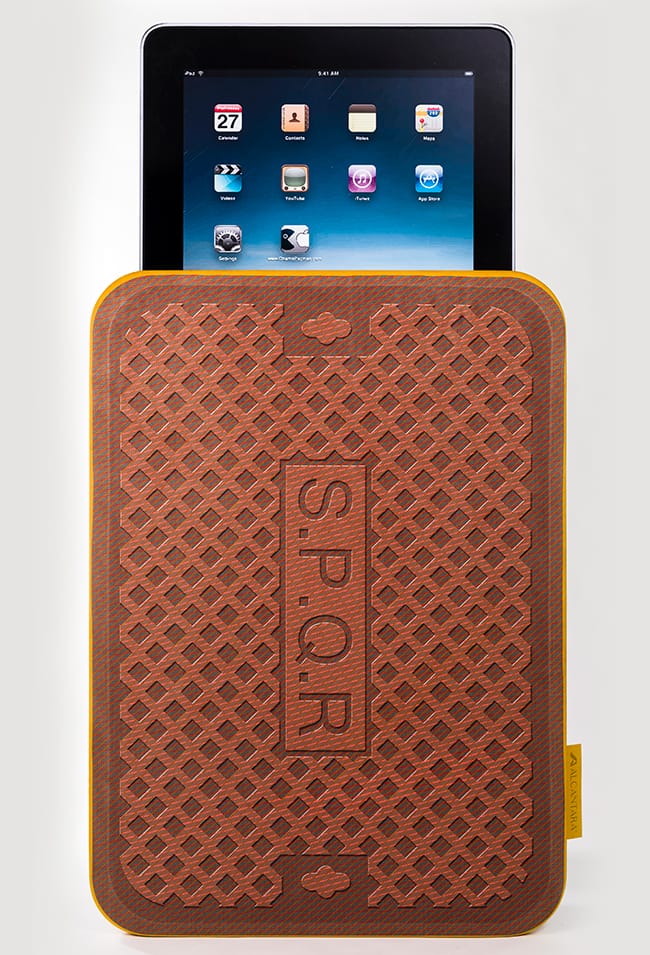 Alcantara Design Museum
Alcantara presented the "Alcantara Design Museum" at Superstudio Più in the Tortona district during Design Week 2009. A selection of internationally renowned designers has been invited to contribute their own personal interpretation of Alcantara, and its countless applications, emphasizing the features and unique characteristics of the material. This interpretation will be realized through the redecoration of an object created by one of several leading producers in the field of design.
Why Patricia Urquiola chose Alcantara?
"Alcantara is transformed, bent, creased and deformed in order to shape Demi Plié. The formally rigorous plissé is repeated and it mirrors the rhythm of the line. A severe selection of intense yet also sober colors. Games of lights and shadows. The guest-star is the Volant armchair by Moroso, dressed in Grayish Beige with Goya Red lapels".