BIO
SHIHARU SHIOTA
Born in Osaka in 1972, she lives and works in Berlin. Confronting fundamental human concerns such as life, death and relationships, Shiota explores the sense of human existence either through largescale installations – within which common objects and memorabilia with a symbolic value find their place – or through her drawings, sculptures, photography and videos.
In 2015, Shiota represented Japan at the 56th Venice Biennale and over recent years she has presented her works in prestigious international museum institutions such as MoMA PS1, New York; La Maison Rouge, Paris; The Museum of Art, Kōchi; Freer and Sackler Galleries of Art, Washington D.C.; Power Station of Art, Shanghai; and K21 Kunstsammlung Nordrhein-Westfalen, Düsseldorf. Furthermore, her work has been presented at the Sydney Biennale; Gwangju Biennale (South Korea); the Setouchi International Art Festival; and the Yokohama Triennale (Japan).
Reflection of Space and Time
The dream of Chiharu Shiota, "Reflection of Space and Time", is the next stop. Conceived as a universal place that preserves the memories of humanity, a thick monochromatic spider web – the distinctive sign of the production of the artist, which here foresees the use of 110 kilometres of Alcantara thread applied during the installation stage – crosses and envelops an internal structure from which two iconic white costumes in Alcantara stand out.
Their image is reflected and multiplied in the mirrors positioned in the centre of the structure and along the walls of the room, altering the physical and temporal perception of the surrounding space, in a continuous toing and froing of views and illusions, of awakeness and dreaming.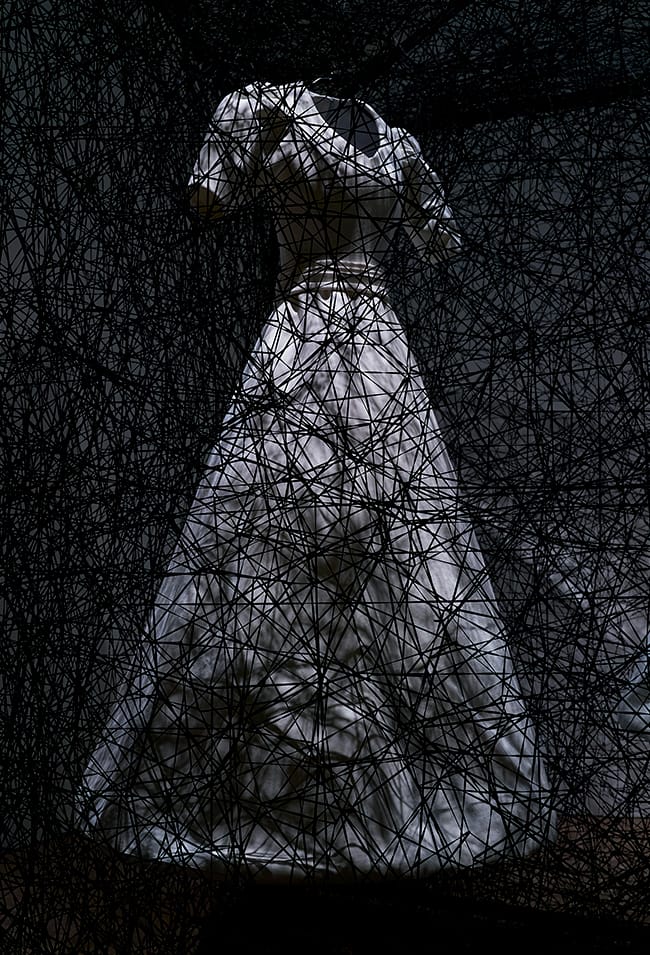 In Silence
The largest-ever solo exhibition of Shiota Chiharu titled "The Soul Trembles" was hosted at the Mori Art Museum in Tokyo from June to October 2019. The title references the artist's earnest hope to deliver others soul-trembling experiences derived from nameless emotions.
"In Silence" (2002/2019), a work in which an immense black web envelops a burned piano surrounded by audience seating, is displayed in a new and previously unseen version in Alcantara. The artwork was born out of a memory of the next-door-house burning down in the middle of the night when Shiota was a child. While symbolizing silence, the soundless piano plays visual music. The artist experiments the unique feeling, the opacity and the stretching of the material, very different from material that she has previously used in these types of artworks. Thanks to Alcantara values and features, one of the most iconic installations turns into an unexpected and visionary version.