BIO
FORMAFANTASMA
Italian duo Andrea Trimarchi (b.1983) and Simone Farresin (b.1980) graduated from Design Academy Eindhoven in 2009.
Under the name Formafantasma, based in Amsterdam, they explore the relationship between tradition and local culture. With an eye for materials, context, process, and sustainability, they show how objects can transmit culture. Craft, industry, object, and user come together in their work.
The pair often starts projects with what nature has to give. In the hands and minds of Formafantasma, basic elements evolve into rural, fragile, detailed, precise, pure designs.
In perceiving their role as a bridge between craft, industry, object and user, they are interested in forging links between their research-based practice and a wider design industry.
Strata
During IMMCologne 2016, Alcantara & DAMN° staged "Touching Tales, The Alcantara Experience".
For this very tactile contemporary show, four maverick studios were invited to 'experiment' with the Made in Italy material to create unusual, surprising installations, featured in two different locations in Cologne.
The touching tales of Formafantasma was unfold in the suggestive spaces of the Kunsthaus Rhenania in the Rheinauhafen complex, a splendid location overlooking the Rhine river. The Italian duo Formafantasma presents Strata, a project that highlights the versatility and strengths of Alcantara through a series of simple elements that evoke different applications for the material, while emphasizing the contrast with other natural materials such as marble, metal and stone. Used as a belt to keep heavy pieces together, Alcantara demonstrates its extraordinary strength.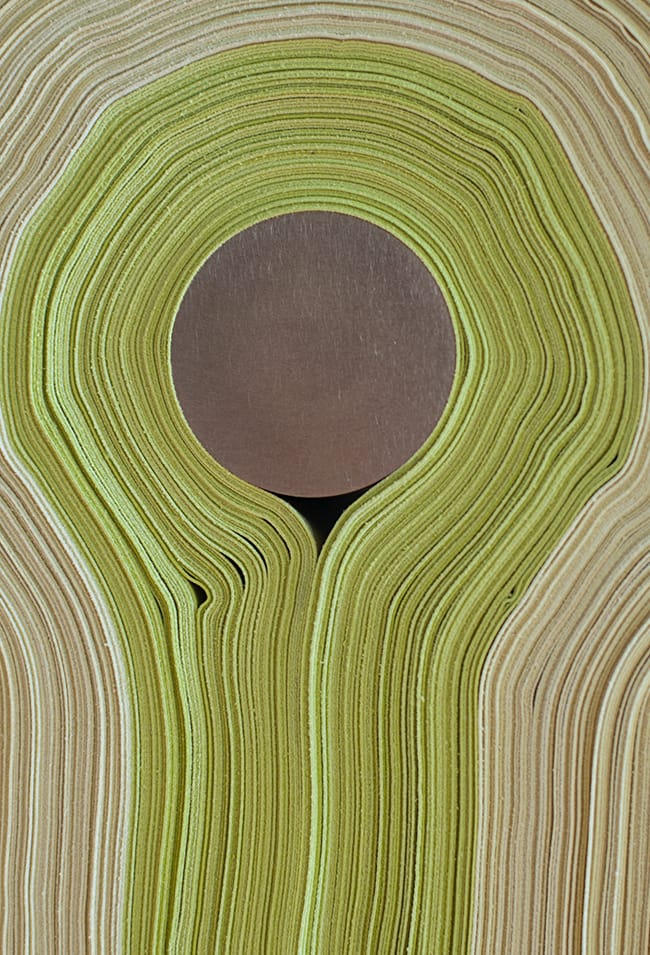 Formafantasma. Nervi in the making.
For the now starting second edition of the Studio Visit project, in 2019 the Italian designer duo Formafantasma addressed the genius of Pier Luigi Nervi.
After consulting the MAXXI Architecture archives, Trimarchi and Farresin in fact decided to address the genius of Pier Luigi Nervi by featuring the project "Nervi in the making", curated by Domitilla Dardi, design curator of MAXXI.
The two designers approached the archive of the undisputed master of ferro-cemento (ferrocement) design to fully understand his work on the material, discovering unprecedented and unexpected analogies with an apparently quite different material such as Alcantara.
"Structure – Formafantasma explain – is the key word and the most important common element between the two materials. With his extensive research, involving extensive trials, tests and calculations, Nervi demonstrated the extraordinary structures that could be achieved with concrete. It is thanks to his farsighted work that Italy was built over the last sixty years. We approached Alcantara with a similar spirit and studied its wide-ranging application potentials. But our main focus was on what makes it a sui generis material, governed by a sort of artificial intelligence that makes it incredibly versatile."
The result is an installation that recreates an environment, physical and mental at the same time, like a puzzle that communicates the importance that a material can have in the work of a designer.